The founder of The Delicious, Sarah Gim, shares her Instagram-worthy approach to unforgettable game day food.
For the better part of this century Sarah Gim, has been blessing the web with beautiful images of food. The Westside blogger has been a vital L.A. food porn purveyor with her TasteSpotting website — which currently has over 450,000 recipes — and Gim's popular blog The Delicious Life which began in 2005.

But where Sarah has really shined is on social media. Her Instagram alone has attracted over 233,000 followers because let's face it, who doesn't need a splash of color to drool over during these dark days?
In advance of the Super Bowl, we asked Gim for any tips she might have for our own spreads.
If you were hosting a Super Bowl party where SF 49er fans would be the majority, what dish would you make sure to include?
San Fransisco has some quintessential foods that aren't anything like the traditional snacks you think of for Super Bowl, but clam chowder in mini sourdough bread bowls would be great, as well as a big pot of cioppino. Supposedly San Francisco is also known for burritos — but I live in L.A., so come on, I can't get behind that as a San Francisco food.
You are a Westsider. For those of us who are not, is there any reason for us to cross the 405 for ingredients for our Super Bowl spreads?
There is nothing on the Westside that you can't get that are the same (or better) anywhere else in Los Angeles; the converse is also true, which is the beauty of Los Angeles. My all-time favorite avocado, grown by JJ's Lone Daughter Ranch, is available at the Santa Monica Farmers' Market on Wednesday mornings, but it's also available at the Hollywood Farmers' Market on Sunday mornings. You just have to go early to the Hollywood market because it gets very crowded since it's the weekend.
Speaking of the avocado. Is your love of avocados purely visual? They don't seem to carry much flavor.
Not much flavor?! I'll pretend you didn't say that. I love avocado for the taste, and at first it was all about guacamole (without tomatoes or cilantro, of course). Photos of sliced avocado and avocado toast are just the bonus!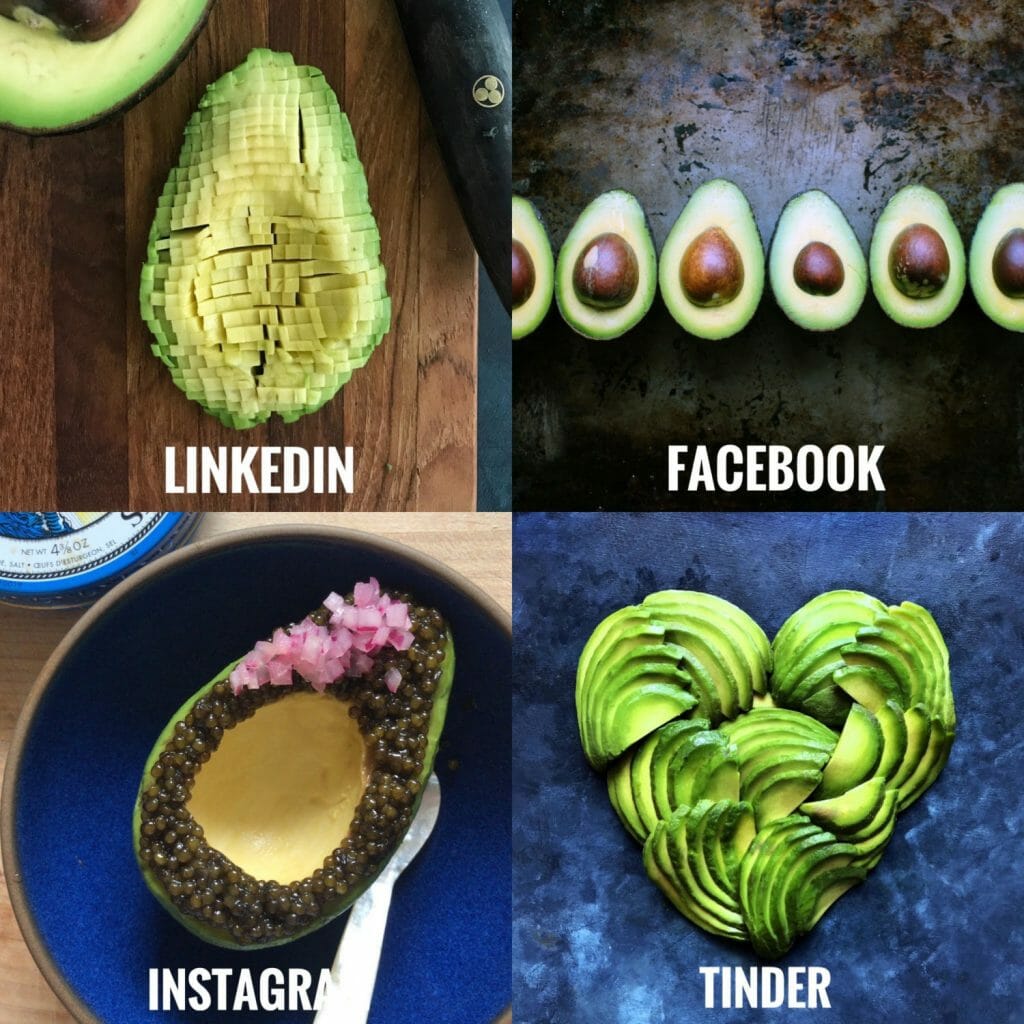 What do you do to make your own delicious spreads look good?
Bright, colorful ingredients always look great, so that's easy for me to find because I work with fresh fruits and vegetables a lot of the time. Grouping similar colors together helps them contrast with other colors and lets them stand out. When working with something that doesn't have a wide range of colors like, for example, french fries, adding fresh garnishes usually does the trick. Ain't nothing an edible flower and a shower of chopped herbs can't fix.
What is an ingredient that looks gorgeous in photos but doesn't taste all that great?
Dragonfruit are bright and gorgeous and interesting to look at, but they don't have a ton of flavor. (P.S. I'm talking about fruit, not some of the dates I've had. Related to dragonfruit, a lot of these acai and pitaya (another word for dragonfruit) bowls are so beautiful in photos, but I personally don't like the way they taste at all.
Which foods can sit out for a while?
Fresh fruit and vegetables last the longest, then dips for crudites and cheese to varying degrees depending on the type. Because these last the longest sitting out on the board, place them on the board first. Some people like to take cheeses out of the refrigerator at least an hour before serving to let them soften, but 15 to 20 minutes is long enough to just get the chill off, as they will soften as they sit on the board.
Most foods that you would typically put on a board can sit out for an hour or two without going bad per se, they just may not be as appetizing, like cold french fries. But to be honest, I will eat cold french fries.
Do you have any photography or lighting tips to bring about your beautiful results?
The two biggest tips are: 1) use the equipment you have and 2) shoot with natural light. I used to shoot with a fancy DSLR camera, but now almost exclusively use my iPhone, which is an 11Pro but a much older version until only a few months ago! We're pretty lucky in L.A. to have so much natural daylight so I take advantage of that. It also looks the best for my purposes — fresh foods with bright colors, photos posted to social media. I set up boards and dishes at home next to a large window that lets bright light in for a majority of the day, but not in direct sunlight.
TV? You are notoriously camera shy in your own feeds. Often obscuring your beautiful face. How would you deal with the unblinking eye of a TV camera?
Oh, I just put on a full-coverage mask, you know like Marshmello's marshmallow helmet. Obviously mine is an avocado though.

Are there other food bloggers or foodies on Instagram that influence you. There must be, right? Care to share any of those accounts with us?

So many food accounts! And many of them putting out beautiful images of recipes, but I'm currently into accounts that treat food as an artistic medium or use food to create designs.

Though not strictly food, witenry arranges foods into mesmerizing imagery and stop motion videos.

SaltySeattle uses naturally-dyed pasta dough to create bright colorful pastas that are themselves mini works of art, but also uses the pasta shapes to create larger artworks (and even fashion!). And of course there is gakugakugakugakugaku — just incredible skill with a knife. It was one of the first carved avocados I'd ever seen.
OK, for those of us who have never put together a board before, can you give us some tips. Like, where should we even start?
1. If you don't already have a large wooden board, you can buy one, but even better, you can use any platter or board you already have. I make salad boards on a large 15″x20″ Boos cutting board; if there's a cooked element like seared salmon or roast chicken, I use a standard 18″x13″ metal baking sheet.

2. Pick a theme as a way to narrow down the infinite choices for things to put on the board. A holiday like Valentine's Day, an occasion like the Super Bowl, but don't be limited to things like that. You can pick a color scheme, a country or culture of origin for the ingredients… that being said, sometimes the theme is "whatever tastes good, just because it's Tuesday."

3. Make a list. I tend to go a little overboard with details in my list in an excel spreadsheet because it's one of a few things in my life I can keep from unraveling into a complete mess, but even a general list like "three different kinds of cheese, three types of meat, etc" will help keep you focused. More than anything though, the list will remind you of little things that tend to get forgotten for cheeseboards like honey, olives, and other accompaniments.

4. Most chain grocery stores — from Aldi to Whole Foods — have enough of all the things you would need for a cheeseboard, so you don't have to go to five different places (admittedly, I do). If you're looking for interesting fruits and vegetables for crudities beyond the usual carrots, celery and cucumbers, try any of the many farmers markets every day of the week around LA.

5. Use Instagram accounts and photos as a general guide, but let yourself do whatever works best for you. The trend right now on boards is a maximalist "more is more" approach with a lot of variety of ingredients and no empty spaces on the board. But remember when a cheeseboard was wedges of three different cheeses evenly spaced out on a slate with like five walnuts and a drizzle of honey? That works too!