WeHo's Mayor tests positive for COVID-19, Drake self-quarantines and testing might get easier for the rest of us.
Gov. Newsom sent President Trump a letter asking for a Navy hospital ship to be sent to L.A. because 56% of Californians — that's over 25 million people — could get infected over the next eight weeks. — San Francisco Chronicle
While it helps if you are a Laker, testing for coronavirus is beginning to get easier for the rest of us Californians. So far 12,600 people have been tested in Golden State, 3,215 test results are pending and 598 Californians have tested positive. — L.A. Times
West Hollywood Mayor John D'Amico has tested positive for the virus. His test result came back Wednesday afternoon and he is said to be resting while his husband is "doing his part" to quarantine at home. — The Hollywood Reporter
Jeffrey Ghazarian, a 34-year-old man from Glendora, succumbed to the coronavirus after visiting several theme parks in Florida following a business trip. "Our sweet, loving, fun Jeffrey went to be with Jesus this morning. He suffered a lot and put up a good fight. We will miss our Jeff everyday but we are thankful for all the fun happy memories of the times we had together," his sister Lauren confirmed this morning on his Facebook page. He had asthma and bronchitis as a child but had overcome those ailments, his family said. — People
There are plusses and minuses to hanging out at cool clubs with NBA MVPs. Just ask Drake who only last week was posting photos on his Instagram of him with Brooklyn Nets star Kevin Durant at The Nice Guy in West Hollywood. This week, Durant was one of several athletes who tested positive for COVID-19 after visiting Staples Center. This inspired the "Gods Plan" rapper to self-quarantine yesterday at his Calabasas mansion for a few weeks. — Hollywood Life
Playboy magazine won't be publishing any new issues of its iconic print publication for the remainder of the year. That might be the death knell for the first amendment champion known for its articles. — New York Magazine
Yesterday, we featured 10 really great films you probably haven't seen that are available to stream during the quarantine. Today, more lists are coming out, including this one highlighting films set or shot in L.A. - Los Angeles Magazine
Sherman Oak's legendary Casa Vega will be closing indefinitely, owner Christina Vega said this morning on her Instagram. "64 years ago, my father started Casa Vega. It became a place for our community to gather in good times and bad. A place our customers have made their own. Today we are temporarily closing due to COVID-19. We don't know if this for a few weeks, a month or longer." The restaurant was recently featured in the Oscar-nominated film "Once Upon a Time in Hollywood." — CBS LA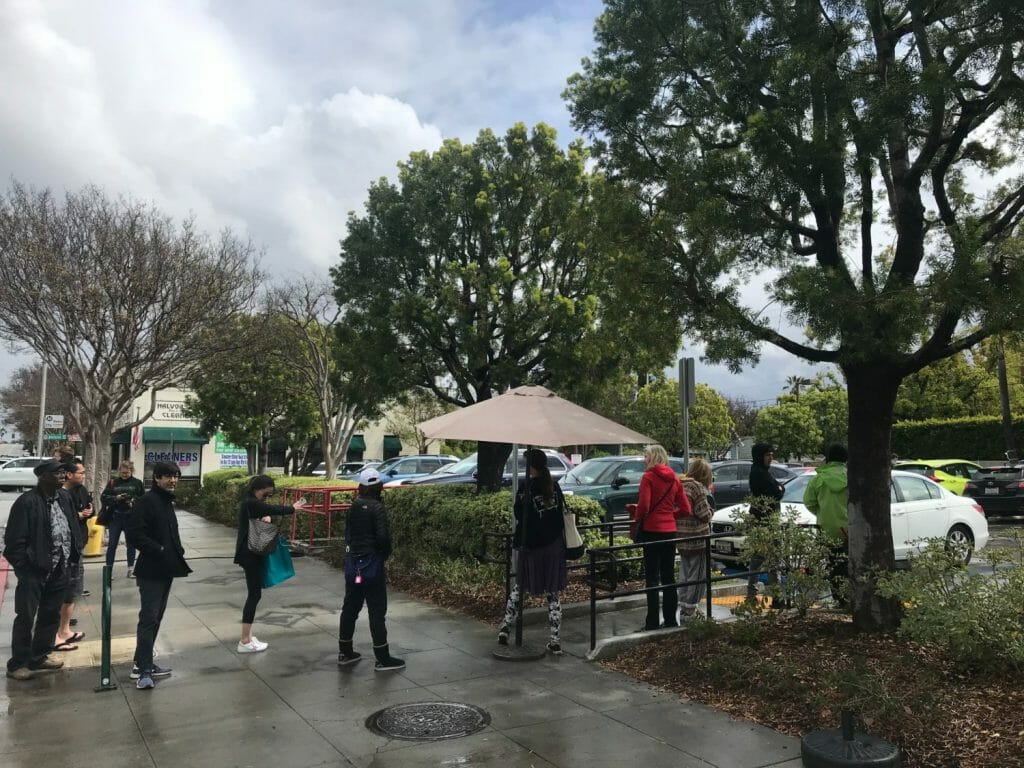 Many stores are limiting how many customers can shop inside. This causes lines to form outside, like here at the South Pasadena Trader Joe's. Remember to practice good social distancing by keeping at least six feet away from the next person in line.
A senator from North Carolina is being accused of dumping between $628,000 to $1.7 million in stocks after assuring the public that the U.S. was prepared to take on the coronavirus. The problem is he was the head of the intelligence committee which was receiving daily coronavirus briefings around this time. A week after he cashed out, the stock market experienced a series of historic drops so dramatic that it had to close several times as an emergency precaution. — ProPublica