California approves reopening barbershops, hair salons and sit-down dining for the county that has seen the most COVID-19 cases and deaths.
California approaches 4,000 coronavirus deaths, with L.A. County being the hardest hit. — L.A. Times
Happy? The governor now allows Angelenos to get their hair and nails did. The county, which is home to about half of the state's COVID-19 cases and deaths, has just been approved by the state to reopen restaurants for in-person dining and resume services at barbershops and hair salons. — Fox Los Angeles
An unnamed deputy public defender who worked out of West Covina has become the first employee in the Los Angeles County justice system to die of COVID-19. "We are heartbroken to learn of the first death of a justice system employee related to COVID-19, a day that we feared would happen, but it doesn't make that reality any less painful," the Association of Deputy District Attorneys said in a statement today. — CBS Los Angeles
The California Citizens Compensation Commission, a public board that sets salaries for public officials, voted unanimously yesterday to keep officials' pay flat for the fiscal year beginning July 1. But before you create a GoFundMe for public servants, know that Gov. Gavin Newsom will still make nearly $210,000, state legislators will continue to collect nearly $115,000 a year, the lieutenant governor will make $157,000 and the attorney general will have to make due with roughly $182,000. — AP
White people are less likely to die from the coronavirus than minorities. — L.A. Times
Which L.A. industries have been affected the most during the pandemic? Bookstores and music stores had the biggest drop of any industry, with 85% fewer workers. Full-service restaurants have about 64% fewer workers and clothing stores are down a similar amount. — LAist
Don't rush the vaccine, Operation Warp Speed. "In this world, where there's so much vaccine hesitancy and doubt, you better get it right, out of the box. You can't afford a failure. Even knowing that we're in desperate need of a vaccine and the deaths are happening, I worry that if we don't do it right, it's going to be worse," said bioethicist Arthur Caplan. — L.A. Times
The California Dental Association distributed 25,000 personal protective equipment kits to dentists throughout the state sourced from California's pandemic response stockpile. — NBC Los Angeles
SeaWorld, Legoland California, the San Diego Zoo and other large tourist attractions are asking San Diego County officials for permission to reopen by July 1. — ABC Los Angeles
Good for you, Hailey, Jenna and Summer. Three Huntington Beach high school juniors are getting 500 masks and 50 DIY reusable mask kits so they can give them away. Recent protests by maskless people inspired them to shake the bad impression it caused. "We all believe that these small businesses and local businesses should open up. We just thought that the way they did it and the way they protested was wrong, with no one wearing masks," said Summer Balentine. — ABC Los Angeles
Former Laker Metta World Peace has tips for people experiencing anxiety during these troubled times. "I feel at this point in time with COVID-19 it's good to give back, and I decided to reach out to the YMCA-LA because I saw they were doing great things. My daughter Sadie Artest volunteers at the YMCA-LA and she's had an amazing time supporting the organization," Peace said. — YMCA
The Grammy Museum is closed due to the Rona, but the rock won't stop. Today, the Recording Academy has announced a June schedule of free online concerts starring the likes of Lucinda Williams, Adam Lambert and hometown darlings Haim. — Grammy.com
And finally, amusement parks will soon reopen in Japan with new coronavirus-minded rules. One of the new guidelines includes NO SCREAMING. — CNN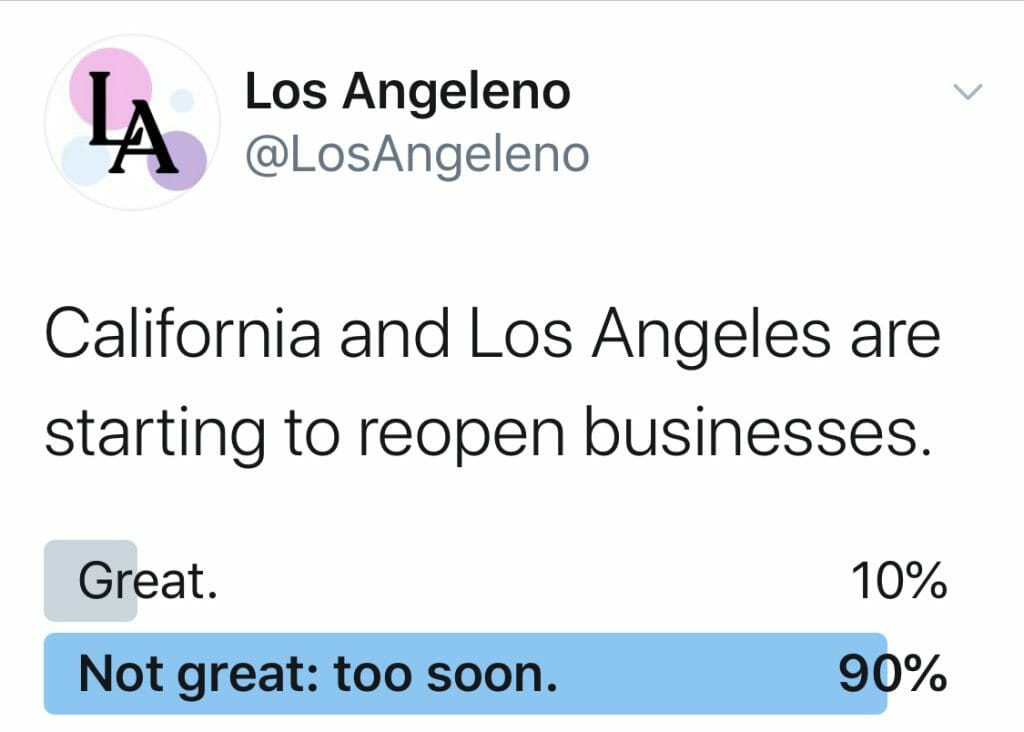 Thursday, May 28, 2020
80K Angelenos Could Soon Get Rent Relief
Meanwhile, the Orange County Sheriff's Department says it will resume evictions next week.
Both violent and property crimes have dropped by more than 6% during the pandemic, but homicides are up more than 12%. — Fox Los Angeles
What schools will probably look like once they reopen: Masks on everyone. Sixteen kids per class. One-way hallways. Students eating lunch at their desks. Each child playing with one ball — alone. "Our main priority is health and safety," said Debra Duardo, the superintendent for the L.A. County Office of Education. "Unfortunately, some of the things that children could enjoy in the past, they're not going to be able to do that." — L.A. Times
Sorry Zack, there probably won't be any raging at Coachella this year. The team behind the festival, which has been rescheduled for October, is now thinking that 2021 might make more sense for an event that historically squeezes a quarter-million flower crown-wearing free spirits into a polo field. — City News Service
Also moved to 2021: Kobe's induction into the Naismith Basketball Hall of Fame. Hall of Fame chairman Jerry Colangelo said the class of 2020, which also features big men Tim Duncan and Kevin Garnett, will not be enshrined until early 2021 because of the coronavirus pandemic. Enshrinement weekend was originally set for late August, with an alternate weekend in mid-October, both of which Colangelo said are "just not feasible." — Philadelphia Inquirer
Millions of American homeowners eligible for relief under the CARES Act were provided inconsistent or confusing information by more than two dozen banks that hold federally backed mortgages, a federal watchdog has found. Worse still: when federal officials contacted some of the banks, they failed to change their messaging. Among the biggest offenders were Bank of America, MidFirst and Truist. — L.A. Times
This is why we can't open nice things. Paradise Falls in Thousand Oaks will be closed to the public indefinitely beginning Friday after large crowds trashed the area with litter and human waste — the worst type of waste. Despite trash cans being available throughout the area, officials said many just tossed their garbage on the ground. — KTLA
California's Pandemic Emergency Unemployment Compensation extension program launched yesterday which will aid residents who had previously maxed out their unemployment benefits. Under the 13-week extension, those previously ineligible for benefits can apply again. — ABC Los Angeles
Speaking of unemployment, here are the numbers: Roughly 2.1 million people applied for unemployment benefits last week. About 41 million people have applied for aid since the coronavirus outbreak intensified in March. More than 21 million are now receiving traditional unemployment compensation, plus another 7.8 million are getting Pandemic Unemployment Assistance, a temporary federal program for the self-employed among others. — NBC Los Angeles
More EDD: While many employers cut jobs and pay during the coronavirus pandemic, the Employment Development Department says it wants to hire roughly 1,800 people to service the millions of applicants flooding in. — ABC Los Angeles
Up to 80,000 Angelenos could soon receive temporary help paying their rent. "It's a win-win," said L.A. Mayor Eric Garcetti. "Renters have their rent paid off. Landlords have their mortgage covered." City Council President Nury Martinez said that approximately $700 million were granted to Los Angeles via the CARES Act. "I'm proposing, through a motion, that part of that $700 million — $100 million — be allocated to the renter's relief fund." — ABC Los Angeles
A tale of two counties: While the Orange County Sheriff refuses to cite residents who are not wearing masks, he has no problem evicting close to 200 people at the beginning of June. The eviction announcement came on the same day L.A. officials revealed a plan to use $100 million in federal stimulus money to provide relief to renters. — LAist
Orange County officials today reported six more people have died due to COVID-19. They also reported 100 new cases of the coronavirus. The county received a total of $554 million from the federal government's coronavirus relief bill and plans to use $453 million of it on expenses such as overtime for staff responding to coronavirus emergencies, as well as public health and medical costs. — KFI
Two more Pasadena Whole Foods workers have tested positive for the coronavirus. This is the same location in East Pasadena where another worker died from the virus. — Pasadena Star-News
Silicon Valley venture capitalist Brianne Kimmel argues that the post-pandemic death of the office will be a huge benefit to the human experience: "We uproot our families to live closer to work. We fear losing our job, because then we can't afford the house we need to live close to work, a house that costs so much because everyone around us is trying to live close to work too. We forgo time with friends and family for work happy hours, where we need to be seen to know that we're dedicated to our work and maybe even get a better position at work. Much is sacrificed for our work, much of which is because we have to physically be there. Work becomes our personality, who we date, how we dress, how we look — so much of that is tied to having to physically be there." — The Guardian
To paraphrase Drake: them customers ain't loyal. An Echo Park hair salon owner is frustrated because beauty parlors are allowed to reopen in several counties in California — but not L.A. County. "Our customers, our loyal customers, are now traveling to Orange County or San Bernardino County for a haircut," said the owner of Hammer & Nails Grooming. — LAist
From Arcadia to Winnetka, CVS has opened even more locations for free COVID-19 testing in L.A. and Orange County. — MSN
And finally: Marc Short, the chief of staff to Vice President Mike Pence, owns between $506,043 and $1.64 million worth of individual stocks in companies doing work related to the Trump administration's pandemic response — holdings that could run afoul of conflict of interest laws. — NPR
Wednesday, May 27, 2020
Over 100K Americans Have Now Died from the Coronavirus
The number of Californians who have been infected by COVID-19 passes the 100,000 mark as businesses prepare to reopen.
As of today, more than 100,000 Americans have died from COVID-19. — The New York Times
In a dark parallel, today also marks the day that over 100,000 Californians have been infected by the deadly virus. — L.A. Times
"We are not the mask police — nor do I intend to be the mask police," Orange County Sheriff Don Barnes told the county Board of Supervisors. "I think what we have seen repeatedly throughout the community is Orange County residents acting responsibly." — L.A. Times
RVs 4 MDs is a newly-formed Facebook group that matches owners of recreational vehicles with health care workers who are caring for COVID-19 patients and need temporary housing away from their families. — LAist
Former UCLA football player Elijah Wade is trying to protect student-athletes from being pressured into returning to collegiate sports too early. Some students may fear that disobeying a coach's invitation to a "voluntary" practice could put their scholarships at risk. "The scholarship was earned and shouldn't be lost if someone prioritizes health over their coaches' wants during the situation of a pandemic," Wade said. — L.A. Times
We told you last week, but here we go again: "Swimming in a pool is definitely safe," said L.A. County Public Health Director Dr. Barbara Ferrer. "We have had evidence from CDC that being in a pool is a safe activity." — CBS Los Angeles
Your favorite Hollywood Hills dog park/reality star-watching trails are back. "Make sure when you're out there, wear a mask," said L.A. Mayor Eric Garcetti. "A lot of people still aren't wearing masks, and especially in a place like Runyon, which can get crowded, make sure that you have that on because you're going to come into close contact with people." — City News Service
For the first time in 90 years, The Greek's season is dunzo. Adios Kesha, Alicia Keys, Primus, Deftones and many more. — Fox Los Angeles
State Superintendent of Public Instruction Tony Thurmond wants California companies to fork over $500 million to help close the digital divide during this time of distance learning. "Right now, we know that immediately some 600,000 students are waiting for a computing device and some 300,000 to 400,000 students have an immediate need for an internet hotspot," Thurmond said. — ABC Los Angeles
This weekend, a video emerged of people in Missouri partying in a giant pool. It was so disturbing even Sean Hannity implored his audience to wear a mask:
Small retail stores in the city of Los Angeles will be allowed to reopen starting today, Garcetti announced. The mayor noted that many mom and pop retail stores have been at a disadvantage, staying closed while giants like Target and Costco have remained open. "Now it's time to even that playing field and to do it safely," Garcetti said. — ABC Los Angeles
If you haven't received your stimulus check, it might come as a pre-paid debit card in a plain envelope. The type of envelope people tend to discard immediately. — Fox Los Angeles
L.A. is considering higher fines for littering spent masks and/or gloves. "Anytime you throw any piece of trash on the ground, much less something that's possibly contaminated, just realize the level of disrespect that is for others in the general public," said Councilman Mitch O'Farrell. — CBS Los Angeles
ArtCenter hosted its first virtual job fair with more than 204 students and 97 companies, including Netflix, Nike, Google, IBM and Disney. Instead of walking up to an employer booth or doing an in-person interview, students met with potential employers within the confines of a computer screen. — FastCompany
Skaters swept sand back to the beach:
Harry Sentoso moved to California in the 1970s, fleeing anti-leftist violence and persecution in his native Indonesia which targeted his family for their Chinese ancestry. Over the last few years, he was a seasonal contractor for Amazon. Recently, when the internet behemoth did mass hirings to meet the COVID-based demand, he accepted work at their Irvine facility. Two weeks later, on his wedding anniversary, the 63-year-old was dead — the eighth Amazon worker to die from the coronavirus. — L.A. Times
A Ralphs employee in Culver City and another in Sherman Oaks were hospitalized and died from COVID-19 earlier this month, union officials confirmed Tuesday. — Santa Monica Patch
MGM Grand, the Bellagio and New York-New York will be among the hotels reopening on June 4 on the Las Vegas Strip. — Las Vegas Sun
Archbishop José H. Gomez wrote in a letter to 288 parishes that they must submit reopening plans under guidelines that include sanitary measures and attendance limits to help prevent the spread of COVID-19. If all goes well, the earliest Sunday masses would be on June 7. "During Mass, Communion will be offered only in the form of bread and in the hand, and with priests sanitizing their hands before and after distributing Communion," an archdiocese statement said. — AP
Tuesday, May 26, 2020
Dodger Stadium Is Now the Largest COVID-19 Testing Site in the US
The Chavez Ravine drive-thru location can aid in assisting self-tests for 6,000 Angelenos a day, for free.
How did L.A. become the coronavirus epicenter? Density? A hesitant stay-at-home order? Poverty? All of the above? — L.A. Times
A grandfather in Arleta and his daughter have both died of COVID-19. The daughter leaves behind three children. — ABC Los Angeles
L.A. County Supervisors Mark Ridley-Thomas and Kathryn Barger will ask their colleagues today to approve the creation of an inspector general position to oversee nursing facilities, which account for more than half of L.A.'s deaths from COVID-19. "While some skilled nursing homes may be doing their best to respond to COVID-19, we've seen hundreds of deaths at these facilities, tragically exposing the urgent need for stronger oversight across the industry," Ridley-Thomas said. "Now, more than ever, we must act to address any questionable operations and substandard conditions in the facilities that care for some of our most vulnerable residents — the elderly, the low-income and the disabled." — CBS Los Angeles
Thou Shalt Not Sing in Church.
The Farmer John plant that makes Dodger Dogs has seen 153 of its meatpackers come down with COVID-19. It remains open. The union representing the workers demanded immediate closure of the facility, saying there was no evidence measures taken to control the coronavirus were working. The outbreak is by far the largest in L.A. County to occur outside of a nursing home, prison or other residential setting. — L.A. Times
Dr. Zafia Anklesaria is pregnant and working 12 hours a day treating COVID-19 patients at CommonSpirit's Dignity Health California Hospital. "So I do try and reassure him when I get time to myself, I look down and say it's all good, we've got this." — Reuters
In the market for a used car? The pandemic has forced the bankruptcy of Hertz, which also operates Dollar and Thrifty rent-a-car. If they liquidate their 500,000-plus fleet of vehicles, it could mean great deals for buyers. — AutoVersed
Betty White is 98 and she's doing fine, thank you. — CNN Wire
The TSA said 348,673 people passed through security checkpoints at U.S. airports on Friday. That's the highest number in just over two months and more than three times the number of people from a month ago, but down 88% compared with the same day last year. — NBC Los Angeles
Ticketmaster is still not giving ticket buyers their money back for concerts that have been rescheduled. — VOX
Hollywood house parties are causing a ruckus because party people have no place to rage right now due to the Rona. "A major concern for the Los Angeles Police Department is when a party creates a disturbance for the neighborhood," said an officer in a video on the Hollywood LAPD Twitter account. The officers say loud music, "screams at 3 a.m." and traffic congestion on the narrow streets are a major issue. "Public intoxication and urination are also problems we are seeing in the Hills." — The Hollywood Reporter
A new COVID-19 testing site will open at Dodger Stadium today, which city officials say will accommodate three times more people than any other testing site in the county, thus making it the largest in the land. "I know that we all have fond memories of summer nights at Chavez Ravine, taking in a game and cheering on our boys in blue. Now, even with baseball season on hold, we can still go to the stadium to find help and hope," said Mayor Eric Garcetti of the free testing, which requires an appointment. "And we have specifically designed this site to move people through the process quickly, alleviating long lines and wait times." — City News Service
Et tu, testosterone? A recent study found that men are dying two to three times more frequently than women from COVID-19, so UCLA is launching a study of their own to see if male hormones could be the culprit. "Male hormones actually regulate a key receptor that the virus uses to gain entry into cells, including cells that line the lungs," said Dr. Matthew Rettig, a UCLA professor and the chief of hematology-oncology at the VA of Greater Los Angeles. "If we can suppress male hormones, we can actually prevent the virus from getting into lung cells in the first place." — CBS Los Angeles
The Los Angeles County Sheriff's Department reported today that 230 employees have tested positive for COVID-19 since the pandemic began, along with 822 inmates. In the jail system, 5,294 inmates are currently quarantined and 237 are in isolation. Of those in isolation, 178 have tested positive and the remainder have been tested, but results are pending. — City News Service