"I can't help but think about what life must be like for these residents in the very midst of Los Angeles when everything really is just 20 minutes away."
A flâneur takes to the streets, uncovering surprises — both modest and startling — on walks through a city that's reinventing itself around every corner.
I have never lived in the central beating heart of Los Angeles. Even establishing where that is can be complicated when downtown's growth as a residential district continues unabated and the Eastside's lure of the new threatens to disrupt the city's balance. Still, mid-Hollywood, bordered by Santa Monica Boulevard to the north, Highland Avenue to the east, La Brea Avenue to the west and Melrose Avenue to the south, forms a perfect square of Angeleno centrality and manages to represent unexpected beauty, frantic development and industrial grit all in the space of a few blocks.
Today's stroll stays within these borders with one exception, and that is to cross Highland on Santa Monica and continue one block east toward the Regen Projects, a once-upstart gallery whose artists have mostly joined the blue-chip list, including one-time Black Flag cover artist Raymond Pettibon. Swing by through Dec. 23 to see Wolfgang Tillmans' photographs, hung unframed on the wall as though affixed to a very sophisticated dorm room. Tillmans is a German artist whose shutter's eye first captured Generation X in its ecstatic, club-going youth. Here he exhibits a boundless curiosity, focusing on a floral still-life in one moment and visiting a building site the next, giving us an image of a metal grid caked in wet concrete.
I was most excited by a separate gallery given over to videos from the photographer, which included empty dance clubs awash in mirror ball lights and the 24-hour cycle of a Los Angeles street, all unfolding in about 2 minutes.
As you leave Regen Projects, you may be tempted by the pink-frosted exterior of Trejo's Coffee & Donuts on the northeast corner of Santa Monica and Highland. It was a donut shop long before Trejo's took over and was a safe point for transgender youth as depicted in the 2015 movie "Tangerine."
Hollywood History
From here, walk a block west and begin to slalom your way up and down the streets of this neighborhood, heading down to Melrose, cutting a block west and then back up toward Santa Monica. The blocks stretching from Santa Monica to Willoughby Avenue are mostly industrial at first glance. The art deco era lives on in a number of these buildings, which is evidenced in the decorative metal grid surrounding a doorway and in a vibrantly-colored fountain now planted with some big-leafed tropicals. Brick warehouses hide beneath a sprawl of vines glowing with fall colors in the slanting light of the late afternoon sun.
You'd think these facilities stretch on and on but just as you cross Willoughby, you encounter the Hollywood bungalows that Jim Morrison sang about in "L.A. Woman." They are a welcome sight here, redolent of Hollywood history, whether it's a crisply-stuccoed Spanish Revival, a peak-roofed home painted appropriately in pumpkin shades for the season or a classic, low-slung bungalow made to stand out from the rest with a bright pink door. They compete to survive against steady outcroppings of modernist homes sitting alongside them, all of which seem to have emerged from a similar kit. Regardless of the house, I can't help but think about what life must be like for these residents in the very midst of Los Angeles when everything really is just 20 minutes away.
Architectural styles compete for attention among Hollywood warehouses, studio lots and modern homes. Photos by Lincoln Wheeler.
Brunch for Hollywood's Elites
The last street you'll come to before our self-imposed western border is Sycamore Avenue, where you'll come face to face with a prime example of frantic development. The area has become a magnet of sorts for Hollywood creatives on their downtime. San Francisco's lauded Tartine Bakery opened up a location here that represents part two of their attempt to establish themselves in Los Angeles after the hugely ambitious space in downtown's The Row closed prior to the pandemic. Right next door — and vying with Tartine for the coffee-thirsty — is Sightglass Coffee, which is more of a gourmet marketplace than a simple caffeine outpost. Further along, you'll find Just One Eye, which dares you to possess enough attitude to pass through its doors and peruse the avant-garde fashions within. Across the street is Gigi's, which has managed to become a pandemic-era hotspot for Hollywood's young elite. You may take some relief in seeing their staff space out tables on the sidewalk before dinner, perhaps saving your favorite show from a shutdown. Down near the corner is a place called Super Vinyl. For a moment I expected clingy jumpsuits which hug your body to near suffocation but no, it's a record store, stocked with the newly-pressed and shrink-wrapped, whether a recipient of Best New Music or a jazz classic on its hundredth reissue.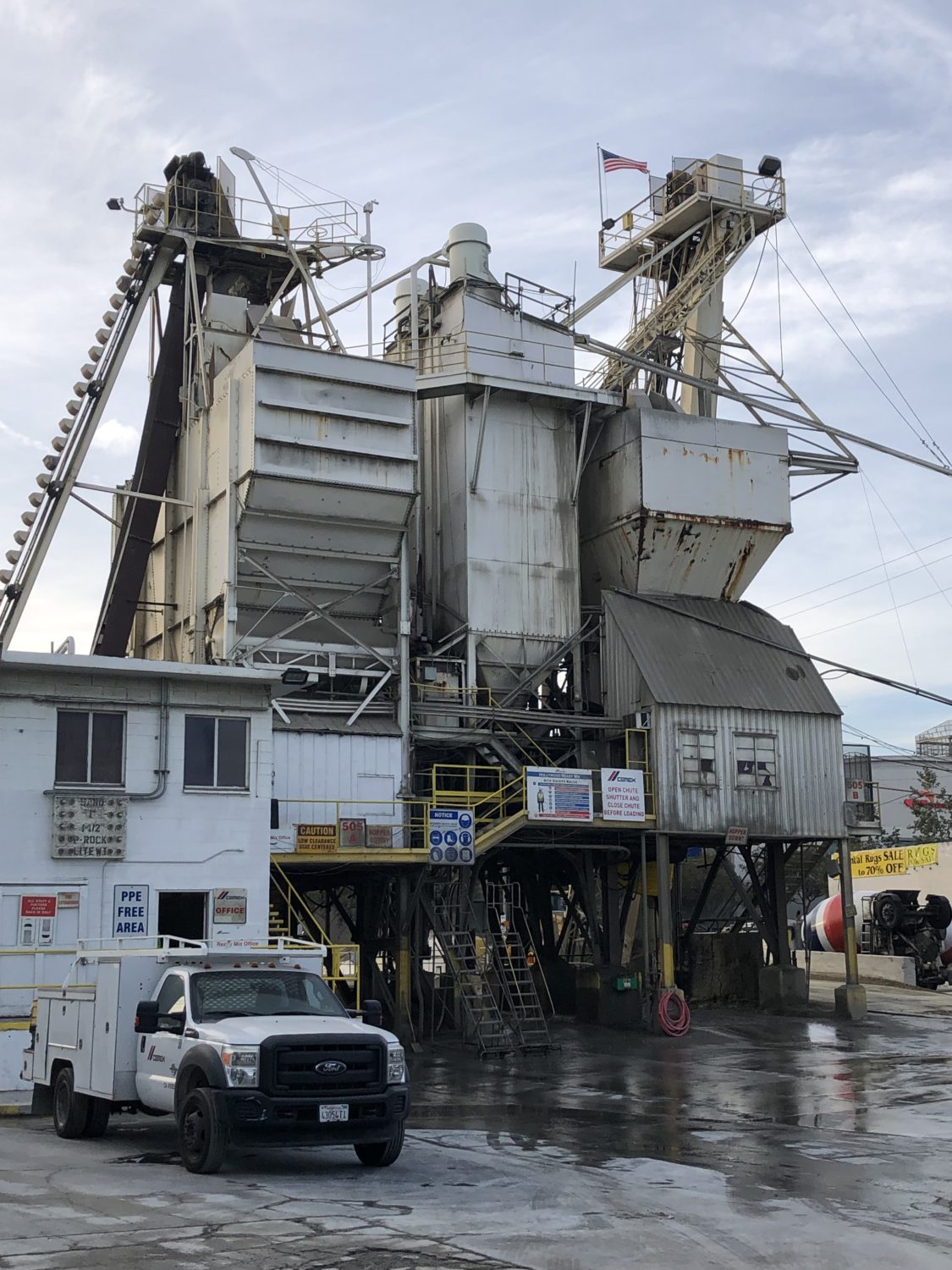 Progress Churns Onward
What brings this celebration of the new to an abrupt halt just a block away is a true industrial symbol, still plying its trade and cranking away so long as there is light in the sky. Cement trucks with their swollen bellies queue up for their ration from the plant that stands there looking like a star on the run from a Becher photograph. How is it that this valuable land has not been scooped up by some dollar-eyed developer? Or do they realize they cannot bring their vision to life if the place that sells the building blocks is closed? Either way, there it remains, having stood there as long as I can remember, aloof to the rapid-fire changes of the neighborhood surrounding it. Unlike me, it has no need for the poppy seed tea cake at Tartine.
As you return to your starting place, going east on Romaine Street, you will spot an ugly structure, not only in appearance but in its ability to conjure up memories of your car disappearing from somewhere in Hollywood and reappearing behind its chain-link gates. It's where your car goes, shamefacedly, when your parking meter has lapsed and a tow truck has ferried it off. For those of you who have never visited Hollywood Tow, count yourself uncommonly lucky and make an offering to the parking gods, i.e., feed a series of quarters into the expired meters of your fellow citizens. Even this may not spare you from the indignity. It's a place reminding you that a Hollywood ending is sometimes a tragedy. Maybe you'd be better off just walking tonight.