For some, the answer is simple, for others, including actual East L.A. residents — it's a little more complicated.
Since the dawn of time, the debate has raged. Some say the internet itself was created so people could bicker over what is the Eastside of L.A. and what is not.
The film legend, and New York transplant, Leonardo DiCaprio grew up in Echo Park and East Hollywood. During the countless interviews he gave in 2016 while campaigning to win his Oscar, he told reporters that he grew up in East L.A. He was roundly corrected.
Some L.A. newcomers, and even local youth, may not realize it, but there was a time in the 1980s when downtown L.A. became a ghost town at night. Likewise, neighborhoods like Highland Park and Boyle Heights were considered gang-ridden and intimidating to many.
That is less of an indictment of the arc of those areas and more of a reason why a blue-eyed white kid might think that Echo Park was the Eastside … because that is as far east as he would venture in those days.
But life in L.A. didn't start in the 1980s, it didn't even start in the 1880s. Indeed, it was in the 1780s that a few dozen black, brown and Native Americans, along with two white settlers, founded El Pueblo de Nuestra Señora la Reina de los Ángeles, aka The Town of Our Lady the Queen of the Angels, in what is now downtown L.A.
Therefore, to those who consider the context of L.A. history and not geography based on the beach, the Eastside is designated by its relationship to Olvera Street, which is often regarded as where Los Angeles began.
But people are weird. Especially when they talk about L.A., which is ridiculously vast and continually sprawling and changing.
Just last month when "You" Executive Producer Sera Gamble spoke about filming locations for the Netflix series, she told the Los Angeles Times, "If you want to capture the real L.A., especially the L.A. where 20-somethings are hanging out, you have to go east." But she meant the DiCaprio east of Silver Lake and Echo Park, not the actual east like … East L.A. (Where there are also 20-somethings hanging out, btw.)
So I decided to take a day traveling from Hollywood's perception of the Eastside, Silver Lake, and journey east, talking to people who were hanging out and asking them: Where does the Eastside begin? And while many refused to give their last name because so many Angelenos consider this a highly controversial topic, almost all interviewees allowed photographs. Here's what they had to say.
Silver Lake
Eddie Spaghetti, aka the $5 Guy, is walking east on Sunset Boulevard in Silver Lake. It's the first week of January and he's wearing a St. Paddy's cap and two totally different shoes. He's been homeless for 22 years and supports himself by selling items he has found — or has been given — for five bucks. Today he has a bright smile and is quick with a joke.
"They say it is a little early for the cap, but I say the early bird gets the pot of gold," he says with a laugh, adding, "I get the pot and the gold!"
Now, where does the Eastside start? "It starts in East L.A." he says quickly.
Next question for him: When was the last time you were in East L.A?
"Yesterday," he says. "Soto Street and Cesar Chavez eating tacos at King Taco!"
Parked in front of what was once a Silver Lake vegan and juice shop was a UPS truck. Surely these gentlemen would know the precise location of the Eastside. But even they disagreed with each other.
"Main Street in downtown," UPS driver Victor says. "You have to go to Main and go east. And that's where the Eastside starts."
East Hollywood native and UPS driver Louis says, "if someone says they're going to be on the Eastside, I'm thinking 1st Street in East L.A."
Echo Park
Standing in line at Konbi in Echo Park on Sunset Boulevard was Archena who was entertaining guests from Oakland. She knew better than to fall into the trap of answering directly.
"I feel like this is a very political conversation and I am ill-equipped," Archena, from South Pasadena says. "I know what's not the Eastside. Brentwood. Beverly Hills … I'm playing it really safe." She laughed a lot but never named names. Wise move.
DTLA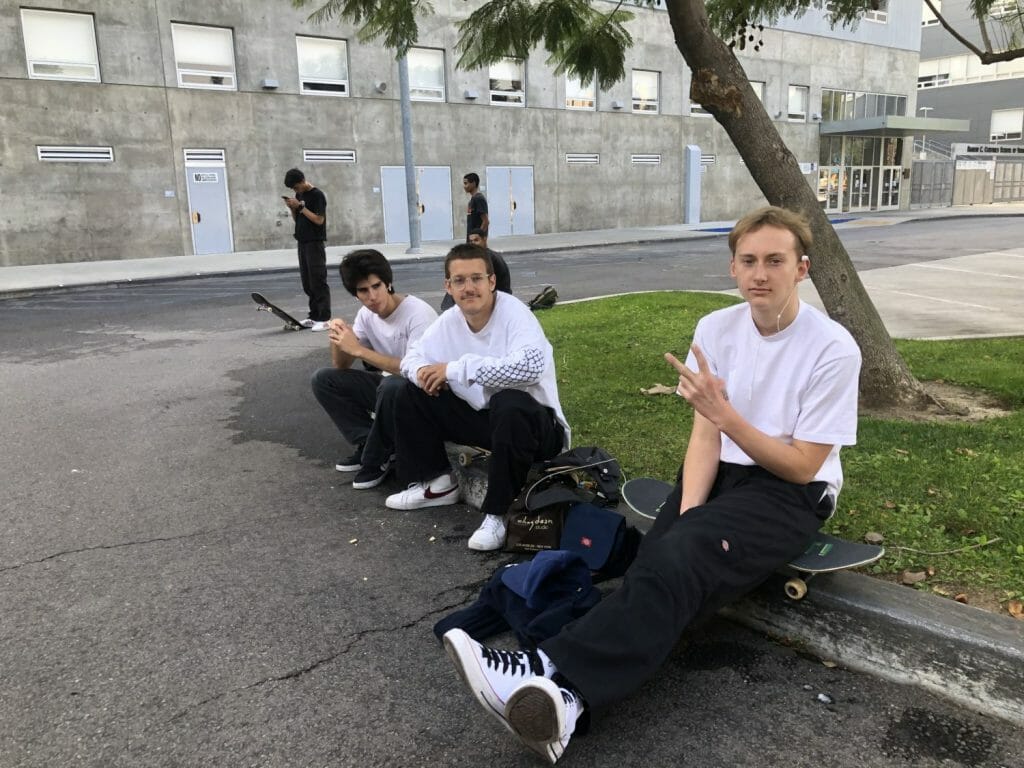 In front of the Ramón C. Cortines School of Visual and Performing Arts near Chinatown were a few young men skateboarding.
"L.A. Trade Tech College," Alex says. Was he being sarcastic? Turns out he attends that school with his friend Nick.
"East L.A.!" Nick says.
Who's the best skater of all of them? Spence, they say and point to him. He's being filmed by another pair of young men. He skates toward us to see what's the issue. Where does Spence think the Eastside begins?
"Eagle Rock," he says and skates off.
James has the best hair and the most annoying cough. "Las Feliz," he finally answers and everyone laughs at how he pronounces it.
Boyle Heights
Eva has been working at Moni's Party World for five years. From the outside, it looks like a simple little shop, but inside it truly is a world of ribbon, cardboard and frilly gifts.
"Isn't it between Boyle Heights and Commerce?" Eva, a graduate of Felicitas & Gonzalo Mendez High School asks.
"It's more east than Boyle Heights," Eva adds, reluctantly. Defeated. Slightly embarrassed by the pop quiz.
On the corner of St. Louis Street and Cesar E. Chavez Avenue is a menswear clothing store that has been there for over 40 years. El Norteño De Savy specializes in Western wear including blue jeans and cowboy boots, hats and attire. It has also set aside a giant portion of its store for the Magic the Gathering-type card game called Yu-Gi-Oh.
Two young men playing Yu-Gi-Oh seemed to know a bunch about the imaginative Japanese manga game, but when confronted with where the Eastside starts, they deliver repeated I- don't-knows.
So I ask, "if someone said, the party is on the Eastside. Where would you think it is?"
"We are introverted people. We usually stay in one spot," Andreas says.
"Yeah, exactly," Jonas agreed. Despite being born and raised in Boyle Heights, they have never considered where that universe fits into L.A., they say.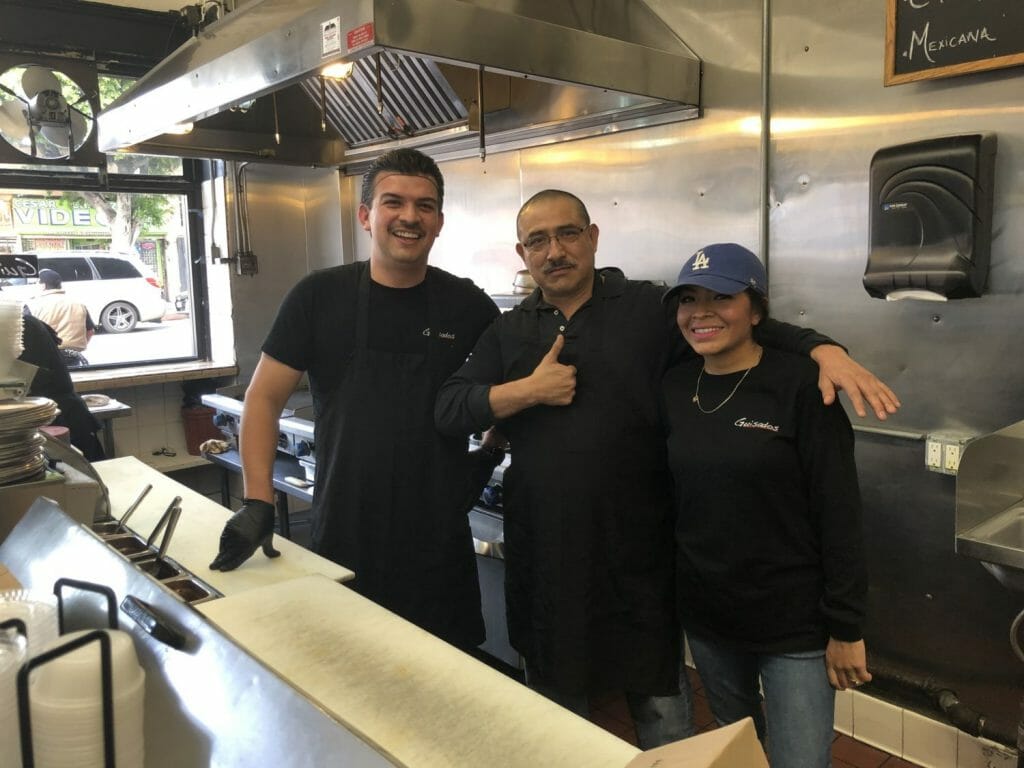 "Lorena St. — that way," Maria, a cashier at the original Guisados quickly says. This isn't even a tough question for her.
But wait, Boyle Heights isn't in the Eastside?
"No, we're our own thing. The Eastside starts on Lorena," she says and gestures behind her.
Eduardo Garcia is 79 years old and has a lot to say about the topic. Sitting on a chair next to a parking meter while watching a Boyle Heights store for a cousin who was taking a quick lunch break, Mr. Garcia educated the curious journalist.
"It used to be here in Boyle Heights," Garcia says. "This used to be a Jewish neighborhood many years ago. This street here used to be called Brooklyn Avenue. Look at the buildings, it looks like you were in New York." And he should know. Garcia has lived in the neighborhood for 45 years, "in the same space."
Garcia says he used to do theater, "I was in many, many movies. I used to be a dancer." Believable, as he still has a spring in his step as he gets up and motions about at his beloved street.
Garcia originally hails from "the most beautiful city in the world," he boasts — Guadalajara. "You see the mariachi over there? It started in Guadalajara!" he says. Fired up, he now explains how L.A. is Mexico.
"Look at the names: Soto, Alvarado, Pico … " Yes, yes, but why is Lorena the beginning of Eastside?
"Well, like I told you … the Italians lived in Lincoln Heights. When the Jews started moving out the Mexicans moved in. There are 198 streets in L.A. with Spanish names!" He says, but never really gets to the point. Which is fine.
"It used to be from here, but now it's not," Luis Vega, owner of City of Angels Tattoo says. "It's divided. This is Boyle Heights."
But then he started thinking a little. "If you look over there, that's L.A.," he says. "So when you're in L.A. looking this way, this is the Eastside."
Luis and his grade-school aged daughter are met by a soon-to-be customer, Fatima, who is in her early 20s. She says she knows where the Eastside starts.
"It's more east than here," Fatima says. "Indiana St. is more east. It starts there."
Inside City of Angels Tattoo, there was a young man in a Kobe Bryant jersey laying on his stomach getting some stars applied to his arm. Deeper in the store are Vega's two teenage sons, Luis Jr. and Andrew. Both very soft-spoken young men.
Luis Jr. says the Eastside begins in Whittier. His brother isn't so sure and doesn't have an answer. He says he has never thought about it.
Lorena Street
Javier is standing, smoking a cigarette in the parking lot of the Lorena Drive-In (formerly the Rockview Drive-in Dairy) on Lorena Street.
The beginning of the Eastside!
"Not exactly," Javier says, "from the L.A. River, east is where it starts. It is the divider."
So why are people saying Lorena or Indiana Street?
"Indiana Street is where Boyle Heights ends and where East L.A. starts.," he states. Correct. But he does not agree that that is where the Eastside starts. He says Mother Nature is how he judges things like this.
Johnny's Shrimp Boat
Mother Nature seemed like a reasonable answer. So, since that was settled, I headed west a few blocks and noticed a little restaurant, Johnny's Shrimp Boat, which was featured in the 2011 movie "Rampart" starring Ice Cube and Woody Harrelson.
Victor was running the grill. Inside there was one customer, George, who was joining the clean plate club on the #4 (fried shrimp and fries). He says the Eastside starts in El Sereno.
In normal circumstances, the customer is always right, but when it comes to this serious matter, Victor begs to differ. "It starts after Lorena," he says, and then corrects himself. "Indiana, my bad."
Why Indiana?
"I don't know bro, it just is. It is what it is," he says.
Indiana Street
I turn around and head east again. It turns out that on Indiana Street there is a little mini market called Indiana Dairy. The woman in charge, a nice Asian lady chats it up with me but when I ask her where the Eastside starts, she claims not to know English.
So, instead, I will pester her customers.
Raphael was in his SUV trying his luck on a scratcher ticket, which he won. As he walked into the Indiana Market where he had just purchased the ticket, he responded to the pressing question. "Eastside starts on this street," he says. "Why? This is Boyle Heights, east of this street is East L.A."
Jose is sitting on his classic 1966 Mustang also working a quarter over a lottery scratcher ticket.
"I'm not sure. It's Indiana or Lorena," he says. He lives in the neighborhood. When he is told that he is being asked because often Silver Lake and Echo Park are considered the beginning of the Eastside, he smiles and laughs. "Silver Lake?" he says. "I'm lost on that one."