The 16-year-old climate change activist led hundreds of local students to ditch school to start saving the planet.
A year ago, Greta Thunberg sat against a wall alone outside the Swedish Parliament holding a white sign that simply read, "Skolstrejk för klimatet" – School Strike for the Climate.
Fourteen months later, she's no longer alone. Sitting behind a similar sign and surrounded by teenage supporters, the pigtailed climate leader has had a lightening fast ascendance onto the national stage.
Thunberg has insulted the United Nations and ticked off the pro-CO2 crowd — and many in the GOP — all to the delight of millions of young people who admire her idealism and focus on saving the planet from an incoming environmental crisis.
When the 16-year-old Swede spoke to Congress in September, she was blunt with her request, "I don't want you to listen to me," she said. "I want you to listen to the scientists and I want you to unite behind science. And then, I want you to take real action."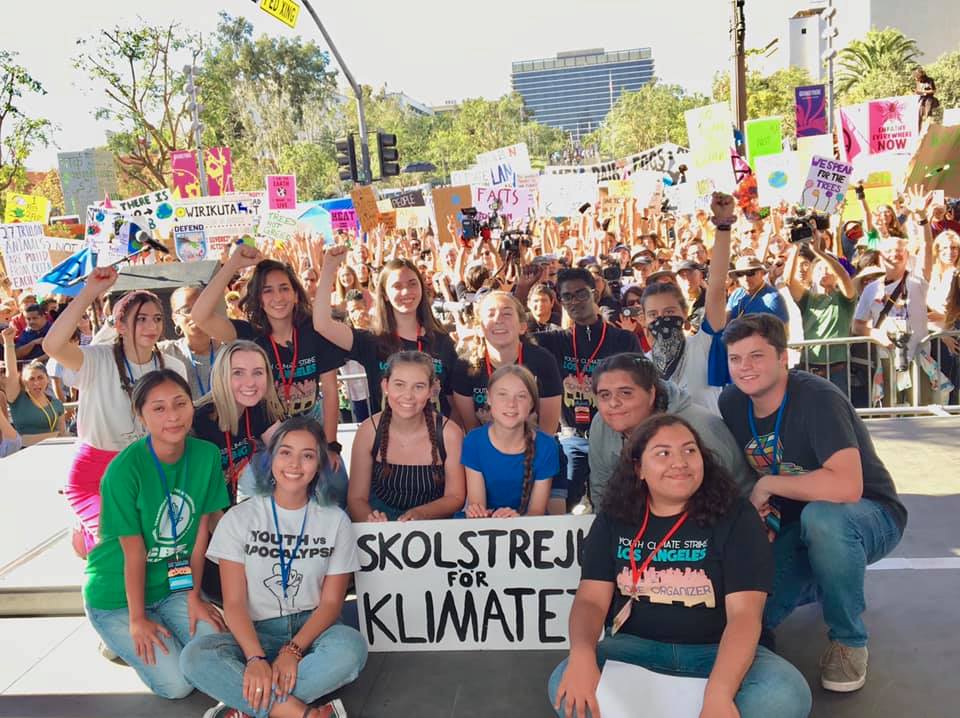 She has had meetings with former President Barack Obama, Canadian Prime Minister Justin Trudeau, Leonardo DiCaprio and even Pope Francis. Not bad for a teenager who has only had the world's attention for about a year and who mostly travels by bike, train or a solar-powered sailboat.
One person she doesn't think she will pencil into her busy schedule is President Donald Trump, a man who has referred to climate change as "bullshit" and a "Chinese hoax."
"Why should I waste time talking to him when he, of course, is not going to listen to me?" Thunberg told Ellen Degeneres in Burbank during her brief trip through Los Angeles last week.
While here, she addressed a crowd of hundreds of students who had gathered in downtown L.A.'s Grand Park on Friday afternoon for one of the many Climate Strikes she has hosted around the world. The young people, some of whom were accompanied by parents, teachers or advisers, were granted excused absences as long as their guardians signed off their attendance at the park.
Thunberg kept it short and pointed. "People are already suffering and dying from the climate and ecological emergency and it will continue to get worse," she said from the podium as City Hall loomed behind her. "Doesn't this mean anything to the decision-makers? I will never understand how they can put short-term interests above human lives."
Thunberg's sense of urgency is a unique one. Instead of imploring her audience to motivate their parents or representatives to get serious about the impending doom, she invited her peers to take over.
"The older generations are failing us. They are failing future generations. But future generations do not have a voice. And the biosphere does not have a voice. So we will be the voice that speaks for them," Thunberg said to applause.
Earlier, she led the crowd, which included singer Billie Eilish, on a short march around the park before she took to the podium.
Prior to the march, 9-year-old Daria Bowden proudly held up a handmade sign that was nearly as tall as her. It read, "I want to die of old age, not climate change!" And painted on the sign was what appeared to be the Earth with a smiley face on it.
"After we listen to the speeches, I want to go around and hold up my sign trying to get people to notice, so we can save the planet," Daria said.
"I think a lot of 9-year-olds feel this way," her mother Dana said. "I think they're more informed about stuff that's going on than I certainly was at that age." Daria's sister, a 7th grader, hung out closer to the stage with her friends. "They are here because they are huge fangirls of Greta," Dana said.
Dana, who works as a teacher, said she is also a Greta fangirl. "I love her. She's amazing," she said. "I think she's an amazing example of a kid finding her voice and speaking in a way that made everyone sit up and listen."
Across the park holding up his own sign featuring a painting of the planet, was 60-year-old Jim Colleran. The Van Nuys native, who said he didn't become civic-minded until Obama was elected, admired the students around him.
"To see the support from all these young people is amazing," he said.
Natalia Salen, a senior at Culver City High School, took the Expo Line to the demonstration along with several of her classmates.
"I came to the first youth climate strike, and then I heard Greta was going to be here, so I was like, 'I need to go,'" she said.
As for why she thinks Thunberg appeals to so many teenagers and kids, Salen said, "I think finally there was a voice and a face that people would listen to. And she's a very powerful speaker. And obviously the words that she says cut deep for a lot of people and have made people actually hear her."