In the wake of the NBA legend's tragic death, fans gather at LA Live.
"Ko-be, thank you," they chanted.
"Ko-be, thank you," they sang to the heavens.
The call, reminiscent to the "Lets-Go-Lakers" one they belted out not long ago across the street at Staples Center grew louder at LA Live on Sunday as other mourners joined in. But this tone was far more somber. Almost like an echo you'd hear from down the block.
What can you say when your sports hero dies at just 41? What can you do? With all the protective fencing surrounding the arena due to the Grammys, where do you even look?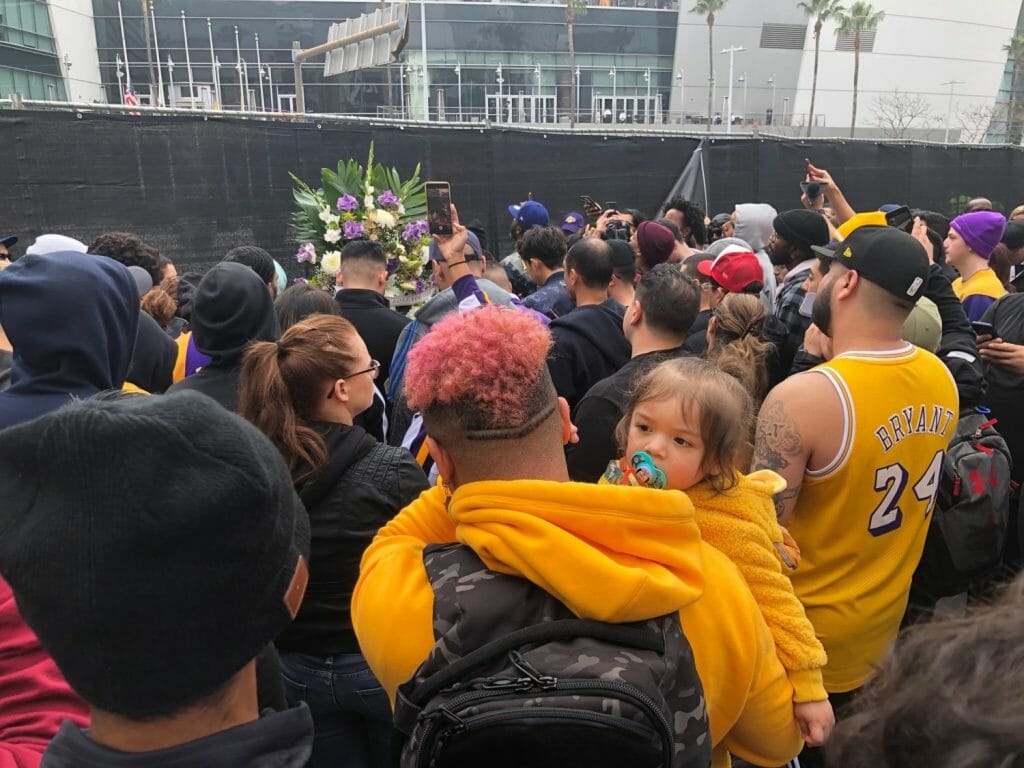 Many looked towards each other as reports came in that not only Bryant died in a helicopter crash in Calabasas, Calif. on Sunday morning, but also his 13-year-old daughter Gianna, along with seven others also on board.
The early crowd of a few dozen at the Staples Center courtyard gathered around a wreath which had been delivered by a man who rushed to downtown as soon as he heard the tragic news of Bryant's death.
"I went to the Flower Mart. I had the guys paint it, and design it," Gabriel Paredes said after placing the wreath and standing next to a temporary fence on the south side of LA Live, as close to Staples Center as the public could get.

"I just wanted…," Parades of East L.A. tried to explain, but was choked up with emotion. "Kobe… his family…"

He asked to be excused and left in tears, minutes after delivering the gift that would be the centerpiece of the impromptu vigil for hours.
While the majority of the mourners were doing their best to keep their tears in check, others like Bobby Jimenez drove to LA Live to let it all out.

In between tears he proclaimed to the sky his devotion to the fallen All-Star forward. Strangers patted him on the back or said "amen" in agreement to his public mourning.
Jimenez, who lives in Orange County, was headed to Anaheim when he heard the saddest news.

"I was actually going to Disneyland today with my daughter here," he said motioning to his two-year-old in her stroller. "I found out about this on the way. I called my wife who is at work. She said, "'you're not ok?' I said, 'I'm not.'"
So he changed plans and headed north towards Staples Center.

"I knew I had to come here. I needed to let it out," Jimenez explained. "That's how I did it at his last game. That's how I did it now. It's not going to make it any easier, but for right now it's helped. I guess we'll see how I feel in the next couple of days."
Christian Oliva sported a gold #24 Kobe Bryant jersey. It was a gift his sister, Claudia, gave him just a month ago for Christmas. She stood next to him looking at Staples Center, tears in her eyes, unable to put into words her sorrow while sporting a purple Kobe Bryant jersey.
"This is the House that Kobe Built. And I watched it get built," Christian, a MacAruthur Park resident, said. "Today is just a sad day in L.A. sports history. It's a big loss in the basketball world. When you talk about the greatest in L.A. history it has to be Kobe. There's no comparison. So we came out here to pay our respects and to mourn with other Laker fans."

They also brought Christian's 13-year-old daughter Mia who wore a #8 Bryant jersey.

"I've come to a lot of games with them," Mia said of her aunt and father, explaining what huge fans they are of L.A. hoops. "A lot of Sparks games too."
After the crowd had grown and news spread, someone in charge of the LA Live video screens changed the commercial images to a simple still photo of Bryant wearing a suit. "In Loving Memory of Kobe Bryant" it read. The fans noticed immediately and began cheering.
Soon the attention shifted from Paredes' flowers to the largest screen at LA Live, next to a Wolfgang Puck restaurant. The image didn't move, but it was compelling to the mourners who, almost on cue, turned their backs to Staples Center and focused in on the flattering photo of the basketball legend.
"MVP," they then chanted. "MVP."

Victor Chavez also wore his Kobe #8 jersey. A similar one to what the NBA star wore in the first half of his career.

"I wanted to come down here with my ball and my throwback number 8 jersey. Great number 8," Chavez said, also wearing a purple Lakers cap and a purple Lakers jacket, while bouncing an official NBA basketball.

"I remember reading Kobe's book when I was little," Chavez, who called Bryant his idol, said. "In it, he said he would walk to school in Philadelphia and always walked while dribbling his basketball. So I figured I would pay him tribute and bring out my basketball and walk over to Staples Center."
Jerry Flores walked over to L.A. Live in custom-designed Nike sneakers that had Bryant's image in the sole of the shoes.

"Kobe is L.A. When you say The Lakers you think of Magic and Kobe. But when you say L.A. you think Kobe. Kobe was a Laker for life. He played on no other team," Flores said. "We are taking a hard one. This is huge. This will take a while to process."
Sharing XBox Plaza with the mourners were Grammy nominees, some of whom would not hear the results of their categories at Staples Center, but in smaller Microsoft Theater in L.A. Live.

Some of those nominees included the Northern Cree Singers from Alberta, Canada. Despite living far from L.A., Ben Cardinal said that Kobe's reach is global — and he was loved and respected among his people.

"It's kind of a damper day now to hear the news of Kobe Bryant passing away," Cardinal said. "All we can do is pray for him and his daughter and pray for his family."
⠀