Halloween season is here, and after being deprived of the opportunity to get their spook on last year, folks are cautiously optimistic about engaging in haunted happenings once more. Some of L.A.'s long-standing events are all lined up, like Halloween Horror Nights and the Haunted Hayride, and some are not, like the West Hollywood Carnaval, but there is still plenty to get excited about. Are you looking to partake in something beyond a stroll through a pumpkin patch? We've hand-picked a batch of ghoulish gatherings to trick and treat your way to Halloween fulfillment. Check them out, be safe and enjoy your candy.
Hallowe'en Spooktacular
Where: Bob Baker Marionette Theater
When: All month
This hour-long, family-friendly revue stars over 100 spooky puppets — from witches and vampires to glow-in-the-dark skeletons — in a show that is more whimsical than scary. It is for the kids (in all of us) after all. Click here for more information.

Witch Houses 2: Fairytales, Castles and Cottages
Where: All over Los Angeles
When: Oct. 13-31
Friends Of Residential Treasures: L.A., aka FORT: L.A., has put together a free self-guided architectural tour of fairy-tale-inspired homes fit for the witchiest witch in town. The tour is curated by Amber Benson, best known for playing Tara Maclay on "Buffy the Vampire Slayer" and authoring "The Witches of Echo Park" trilogy. The map for the trail will be available on Fort L.A.'s website starting Oct. 13 and includes interesting historical tidbits about each of the houses featured.
Delusion: Reaper's Remorse
Where: The Phillips Mansion in Pomona
When: All month
What's Halloween without an interactive haunted house mystery experience? Creator Jon Braver teamed up with Thirteenth Floor, the production team behind the Haunted Hayride, to produce this piece of immersive horror theater staged at the 146-year-old Phillips Mansion. The story revolves around Esther Phillips, the real-life widow and collector of ghostly artifacts who once lived in the mansion, which attendees get to explore through more than a dozen story threads. Click here for more information.
'I Know What You Did Last Summer' Movie & Series Special Screening
Where: Hollywood Forever Cemetery
When Oct. 15
Cinespia and Prime Video have partnered up to present a free screening of the brand new Amazon Original series "I Know What You Did Last Summer," which debuts online the same day, alongside a screening of the original 1997 movie about a group of precocious teens stalked by a hook-wielding killer. Click here for more information and tickets.
Reign of Terror Haunted House
Where: Janss Marketplace
When: All Month
This award-winning walk-through haunted house featuring more than 130 custom rooms in 10 different interconnected sections comes with a warning: "The Haunted House provides an intense, horror and fearful based experience designed for an adult audience. It is NOT designed for children or sensitive people." Sounds perfect, let's go!
Oddities Flea Market
Where: Globe Theatre
When: Oct. 24 (VIP preview on Oct. 23)
For some, Halloween is a year-round obsession, and these folks gather at the Oddities Flea Market to sell their spooky wares to an appreciative clientele. Shop three curated floors of unique medical and natural history ephemera, anatomical curiosities, taxidermy, freaky home decor, jewelry, art and more. (Yes, you definitely need a double-headed albino snake preserved in goo.) Click here for tickets.
'Witching Hour'
Where: Regent Theater
When: Oct. 27
The "Witching Hour" is a Halloween variety show featuring a cast of women led by "ghost host" Suzy Berhow, sharing true crime stories, horror history and poetry, along with live music by electronic shoegaze artist SISU. This year's theme is "protection." Click here for tickets.
Halloween Covers Night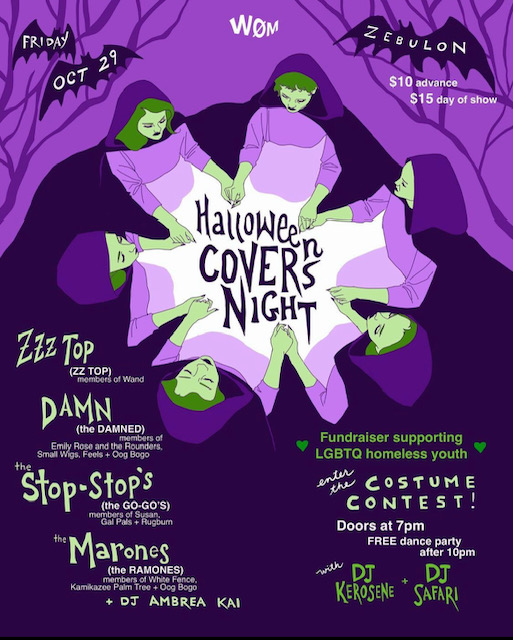 Where: Zebulon
When: Oct. 29
You can dress the part, but can you play that ripping solo? Find out at this fun evening featuring members of various local bands coming together to perform hell-raising covers of some of their heroes. The lineup includes "The ZZZ Top," a ZZ Top cover band with members of Wand, "Damn," a tribute to The Damned, with members of Emily Rose and the Rounders, Feels, Small Wigs and Oog Bogo, "The Stop-Stop's," a Go-Go's cover band starring members of Susan and Gal Pals, and "The Marones," featuring members of White Fence, Kamikaze Palm Tree and Oog Bogo. The night includes a costume contest and is a fundraiser supporting LGBTQ Homeless Youth. Click here for tickets.
'The Nightmare Before Christmas' Live-to-Film Concert Experience
Where: Banc of California Stadium
When: Oct. 29 and Oct. 31
Of the many "The Nightmare Before Christmas" screenings peppering the city this month, this is surely the one to see. Watch a live performance and presentation of the film with vocals provided by Danny Elfman as Jack, Ken Page as Oogie Boogie, "Weird Al" Yankovic as Lock and none other than Highland Park native Billie Eilish as Sally. Click here for tickets.
Secret Movie Club's Halloween-o-thon
Where: Million Dollar Theater
When: Oct. 30
The culmination of Secret Movie Club's Halloween-o-thon invites scary movie aficionados to spend a whole day frightened. First up are two William Castle classics, "House on Haunted Hill" and "The Tingler," presented with EMERGO and PERCEPTO technology, the original gimmicks Castle used in the 1950s to "enhance" the movie-going experience. Next is Nobuhiko Obayashi's cult classic "House," followed by David Lynch's "Twin Peaks: Fire Walk with Me," and ending with John Carpenter's quintessential slasher film, "Halloween." Each film is individually ticketed. Click here for more information on the screenings.
Halloween Organ, Film & Music: 'Dr. Jekyll and Mr. Hyde'
Where: Walt Disney Concert Hall
When: Oct. 31
As is tradition, the L.A. Phil presents a classic silent film paired with live organ music by Clark Wilson. This year, Wilson provides a haunting score for John S. Robertson's 1920s film "Dr. Jekyll and Mr. Hyde," starring John Barrymore. Click here for more information.